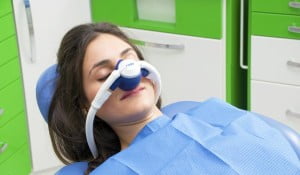 Nitrous Oxide (Laughing Gas)
Relax. Our Laughing Gas System is safe and effective sedative agent that is inhaled through a small mask that fits over your nose accurately dispenses the right mix of nitrous oxide and oxygen to quickly put you at ease.
Nitrous oxide, sometimes called "laughing gas," is one option our dentist can offer to help make you more comfortable during certain procedures. You will still be able to hear and respond to any requests or directions the dentist may have. Our dentist will ask you to breathe normally through your nose, and within a few short minutes you should start to feel the effects of the nitrous oxide. Some people say their arms and legs feel heavy. Ultimately, you should feel calm and comfortable and reassuring. The effects of nitrous oxide wear off soon after the mask is removed.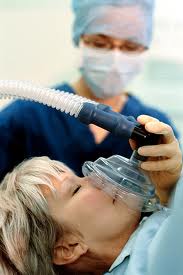 General Anesthetic
General anaesthesia is used to eliminate dental anxiety, relieve pain and allowing the dentist to focus on performing the dental procedures. The dentist can work much faster on the anesthetized patient and for longer time, reducing the need of multiple dental visits.
Patients having dental treatment under general anaesthesia are completely unconscious, unaware of what is happening during the surgery, do not feel pain or other sensation, and after the procedure they have no memory of it.
For adult healthy patients, dental general anaesthesia can be utilized for complex oral surgical procedures (e.g., removal of impacted wisdom teeth) or for highly anxious patients even for fillings.
Dental procedures under general anaesthesia will be performed only at the Mater Hospital, Hyde Park.
Talk to Our team about whether nitrous oxide or General Anesthetic would be a good option for you.