At Deeragun Dental, we select only the best of the best to serve our patients and their families. All of our staff members are friendly, knowledgeable, and highly proficient in their Administration and Dental Assistant duties. Should you have any questions or concerns, do not hesitate to visit or call Deeragun Dental. They are readily standing by to address your needs.
Our Dentists
Dr. Praveen Kurapati – Principal Dentist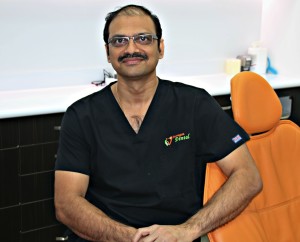 Dr. Praveen Kurapati graduated as a dentist in 1995 from Saveetha Dental College & Hospitals, Chennai, India, and then moved onto completing a Full-time Speciality Training in Oral surgery in 1999 from the same College and awarded the best outstanding student of the year.  Dr Kurapati worked as an Associate Professor training Undergraduate Students at St. Joseph's Dental College, Eluru, India before deciding to move to Australia.
On completion of the Australian Dental Council exams in 2006 he was then registered as a Dentist in Australia and decided to move to Townsville where he has been practicing for over 11 years.
During his very limited spare time Dr Kurapati enjoys gardening, more importantly watching his home team North Queensland Cowboys and travelling with his wife and son.
Whether it is an aesthetic restoration of a single tooth, a smile makeover, or treatment of the entire dentition you can be assured of the finest care and best possible treatment outcome.
---
Dr. Prasanthi Cherukuru – Associate Dentist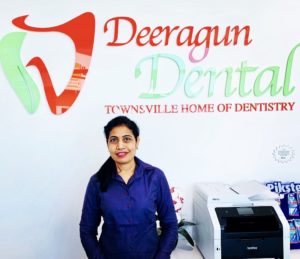 Dr. Prasanthi works with us at Deeragun Dental Monday to Thursday.
Prasanthi graduated as a dentist in 1995 from Saveetha Dental College & Hospitals, Chennai, India. She then began her Dental career in India for the next 10+ years before deciding to make the big move to Townsville, Australia where she has been treating our locals for the last 10 years. 
Prasanthi enjoys all aspects of general dentistry with a special interest in Cosmetic and Endodontic Dentistry. She prides herself on making sure that each and every patient's experience in the chair is relaxing and at ease. She prides herself on her ability to relate to people of all ages and believes in the Philosophy of high end, quality care.
Prasanthi is guaranteed to Provide excellent dental care to all of her patients and their families within the Northern Beaches community.
---
Our Dental Staff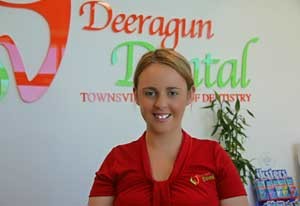 Brittany – Practice Manager
Brittany has been a Dental Assistant for over 7 years starting her career as school-based Trainee at Queensland Health. After spending most of her life in a small country town in South East QLD, a sea change was needed and decided to move to Townsville with her family. After working alongside Dr Praveen for 3 years, Brittany decided to complete her Diploma of Practice Management and in early 2018 she became Practice Manager at Deeragun Dental. Brittany enjoys interacting with all patients that walk through the door making them feel relaxed and happy.
Outside of working hours she enjoys spending time with her partner and two children venturing out on beach drives and camping.
---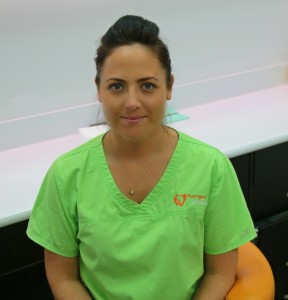 Nadine – Dental Assistant
Nadine has been with us from the very start in 2015 when we first opened our doors to the Northern Beaches Community. She commenced her work as a Dental Assistant 20 year ago down in Melbourne where she grew up. Nadine is a very knowledgeable and organised Dental Assistant that takes a lot of pride in her work. She has an exceptional skill for reassuring patients and making them feel at ease when receiving treatment.
When Nadine is not at work she highly enjoys her gardening with her two children and redecorating her newly built house.
---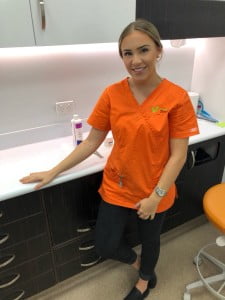 Natalie – Dental Assistant/Receptionist
Natalie started her Dental Career with us in November 2017 after moving from Cairns. She has since commenced her Certificate III in Dental Assisting through Foundation Education. Natalie has a very bubbly personality that brings a lot of smiles to not only the patients faces but also fellow staff members, she has very caring manner helping many patients through their fears in the Dental chair.
Outside of work Natalie enjoys time with her friends and loving partner, doing the odd trip back to her home town Cairns to see family.
---